Kim Greeley - Pipe Major
Starting in childhood, Pipe Major Greeley is committed to learning the art of the Great Highland Bagpipes. Having studied under Aggie Wallace and Piper to the Sovereign,Pipe Major Alec MacDonald, she continues to study under world class pipers, including Gold Medalist Jori Chisholm. As the creator of the Annual Aggie Wallace Memorial Piping and Drumming Competition and founding member of Celtic Kula Pipe Band, she never passes up an opportunity to work with other pipers to improve their skills. Her musical direction provides challenging music and events for Celtic Kula Pipe Band.
Melanie Brown - Pipe Sergeant
Piping since 2002, Melanie Brown started with the Stroller White Pipes and Drums in Juneau, Alaska under Pipe Major Laurie Gardner and world class instructor Ken Eller. She played with SWPD for many years and was at times Pipe Sargent and Band President. Moving to Hawaii in 2014, she joined the Celtic Pipes and Drums of Hawaii in 2015 and was Band Vice President. She is now a founding member of Celtic Kula Pipe Band of Hawai'i, established in October 2018. She is the secretary/treasurer and Pipe Sergeant of CKPBH. With retirement from a 32-year career with the Federal government, she can spend time piping and attending piping workshops with more world class instructors, including Jori Chisholm and Jack Lee. She looks forward to playing great music and keeping the piping traditions growing through performances and teaching.
Theresa Bell - Piper
Theresa Bell is one of the founding members of Celtic Kula Pipe Band and is also a well known artist in Honolulu. Working with the band members, she used her love of piping combined with the joys of living in Waikiki to come up with the lively logo that captures piping in the islands. Theresa has studied piping with some of the best, including Jori Chisholm and Jack Lee.
Mark - Piper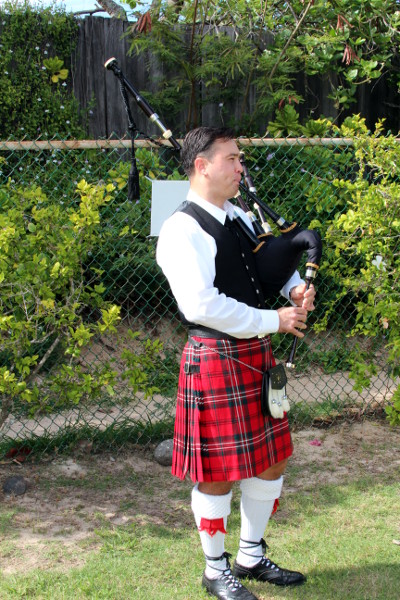 Mark has played with the Celtic Pipes and Drums of Hawaii, Honolulu Pipes and Drums (under Pipe Majors Rich Adams, Glenn Stewart and Craig MacDonald) and was Pipe Major for the Hawaiian Thistle Pipe Band. Besides being a member of Celtic Kula Pipe Band of Hawai'i, he is also an associate member of Isle of Maui Pipe Band. In the past, Mark played with Salt Lake Scots PB, Irish Heritage PB (Antioch CA), and competed with MacMillan PB at grade 3 with Chris Hamilton as Pipe Major. Supported by a scholarship from the Caledonia Society of Hawai'i, Mark spent 4 weeks at the College of Piping in Glasgow, Scotland. He also trained for5 weeks at CFB Borden, Canadian Army School of piping under Pipe Major Sandy Dewar, has had multiple attendance at Coeur d'Alene summer school of piping w/ instruction from, Ed Chilton, Alan Walters, Kim Chisholm, Graham Davidson and Albert Duncan; and is a regular participant in the annual Jack Lee work shop on Maui.